Free URock Music Camp returns to St. Francis Music Center
Starts July 21, 5-7pm | St. Francis Music Center


St. Francis Music Center, Little Falls, is gearing up for the 12th annual URock Camp! Students in grades 5-12 are invited to participate in this free camp. Guitarists, drummers, bassists, vocals, keyboards and other musicians who want to be in a band are invited to attend. You don't need a lot of experience on your instrument, just some of the basics. Vocalists do not need prior training, just a love of music!


URock Camp starts from 5-7 p.m. on Friday, July 21, at St. Francis Music Center. The instructors will get to know the students, their musical tastes and their abilities. The next morning the group will be divided into bands and the fun begins! Each band will pick a name and three songs they'd like to play. The rest of the camp is spent learning the music and basics of being in a band, rehearsing with the band, creating band posters and getting ready to perform. All music styles are welcome, from rock to country to Christian, and everything in between.


On July 22, 23, 29 and 30, the camp will be held from 10 a.m. to 5 p.m. The final concert will be held outdoors on Wednesday, August 2, as part of the Green Fair Folk Festival. Participating bands will also have the opportunity to play at the Morrison County Fair.


Young musicians who are questioning whether they have the ability to participate in the camp are encouraged to call St. Francis Music Center and set up a free lesson with one of the instructors. This is a good way for new members to gain confidence in their skills.


Don't let your lack of training hold you back from being a rock star! If you know three chords on your guitar, or have had a few years training on any other instruments, come and join URock—it is free and a lot of fun!


This activity is made possible by the voters of Minnesota through a grant from the Five Wings Arts Council, thanks to a legislative appropriation from the Arts and Cultural Heritage Fund. Funding for the URock Against Violence Program is due to a grant from Catholic Health Initiatives. These two generous donors allow the camp to be free for all students.


Space is limited and participants need to register in advance. For more information, contact (320)632-0637, email info@fslf.org, or visit sfmusiccenter.org/urock or facebook.


---
Summer Lessons at St. Francis Music Center
June 5 | St. Francis Music Center


Now is the time to sign up for summer lessons at St. Francis Music Center! Private lessons are available for piano, organ, guitar, bass guitar, banjo, ukulele, accordion, all band instruments, violin, viola, cello, bass, percussion and voice. All ages and all levels of ability, from the very beginners to advanced students, are welcome.

St. Francis Music Center is a community school for the arts located on the campus of the Franciscan Sisters of Little Falls. The music school is open to all and offers a wide variety of lessons and programs for all ages. Summer lessons begin on June 5 and run through August 18.

This summer the Center will also offer it's very popular URock Summer Camp for middle and high school students who want to be in a band. Students will be divided into bands and perform together in a final concert. URock begins on July 21.

Finally, the Green Fair Folk Festival will be outdoors on the campus of the Franciscan Sisters on August 2. Along with green vendors, great food and lots of family fun will be art activities for the kids and great music on the stage all evening. The Green Fair Folk Festival is free and open to all!

Lots of excitement is going on at St. Francis Music Center this summer! To register for lessons, visit the website www.sfmusiccenter.org. All registrations for classes and lessons are now done from the website. For more information, call the Music Center at (320)632-0637. Financial aid is available.


---
Pine Country Bank donated $500 to the Music Center


The Franciscan Sisters are grateful to Pine Country Bank for the generous donation of $500 to support the orchestral program at St. Francis Music Center. Thank you! Pictured: Tina Scherping, Sister Adela Gross, Sister Bernice Rieland and Diane Korver.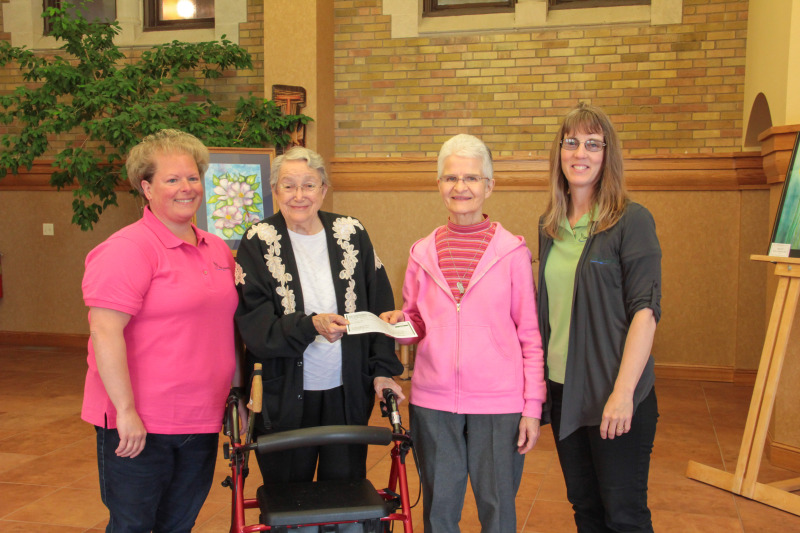 ---
2016-2017 Calendar
| | |
| --- | --- |
| Fall Quarter.................. | September 6, 2017 - November 27, 2016 |
| Winter Quarter........... | November 28, 2016 - March 5, 2017 |
| Christmas Break........ | December 20, 2016 - January 2, 2017 |
| Spring Quarter............ | March 6, 2017 - May 26, 2017 |
| Summer Session......... | June 5, 2017 - August 18, 2017 |
| Summer Break............ | July 3, 2017 - July 7, 2017 |
Special Events
| | |
| --- | --- |
| Halloween Recital.................................... | October 30, 2016. 1 p.m. |
| Choir Christmas Concert...................... | December 4, 2016. 2 p.m. |
| Holiday Recitals........................................ | December 9, 10, 11, 2016 |
| Orchestra Christmas Concert............ | December 16, 2016. 7 p.m. |
| Honors Concert........................................ | January 29, 2017. 1 p.m. |
| Keyboard Festival.................................... | April 7 and 8, 2017 |
| Spring Orchestra Concert.................... | April 28, 2017. 7 p.m. |
| Spring Recitals.......................................... | May 12,13,14, 2017 |
| URock........................................................... | July 21-30, 2017 |
| Green Fair Folk Festival........................ | August 2, 2017 |