Dance Classes
September 16 | St. Francis Music Center


Dance lessons for ages 3 and up will be offered at St. Francis Music Center, Little Falls, starting on Saturday, September 16.


Dance classes at the Music Center follow a strong, age-appropriate dance curriculum designed to give young students an introduction to dance that covers basics in tap, ballet, jazz and creative movement. The main goal of the dance program is to teach dancers to be creative, physically fit, flexible, confident and artistic.


Dance classes will meet on Saturday mornings. There will be a class for 3-year-olds from 9-9:30 a.m.; 4-and 5-year-olds class will meet from 9:30-10:15 a.m.; 6-to 11-year-olds from 10:15-11 a.m., and 12 years and up from 11-11:45 a.m.


Missy O'Connell is the dance instructor. She is a group exercise instructor at the St. Cloud Family YMCA and is a kindergarten teacher at Athlos Academy. Missy also dances with the Minnesota Dance Ensemble, a nonprofit dance company specializing in modern and jazz. Missy strongly believes that dance, in one form or another, is for everyone and her passion shows through her love of her students.


To register for fall dance classes, visit www.sfmusiccenter.org and click on REGISTER NOW. For questions or more information, please call St. Francis Music Center at (320)632-0637.


St. Francis Music Center is a community school for the arts, sponsored by the Franciscan Sisters of Little Falls, Minnesota, located on St. Francis Campus in Little Falls. Everyone is welcome.


---
Fall Lessons at St. Francis Music Center
St. Francis Music Center


Now is the time to sign up for fall lessons at St. Francis Music Center! Private lessons are available for piano, organ, guitar, bass guitar, banjo, ukulele, percussion, trap set, all band instruments, violin, viola, cello, bass, accordion and voice. All ages and all levels of ability, from the very beginners to advanced students, are welcome.

The Music Center also offers gymnastics classes and dance classes. Dance classes are for ages 3 and up and will be held on Saturday mornings. Gymnastics classes start at age 4 and will be held on Thursday evenings.

Students can sign up for composition and recording sessions. Dr. Turley from the College of St. Benedict/St. John's is available every other Monday for piano lessons.

The St. Francis Preparatory Orchestra, St. Francis Concert Orchestra and St. Francis Chamber Orchestra will begin rehearsals on September 12. All area string players are invited to be a part of the orchestras. Call the Music Center for more information.

The St. Francis Community Chorale will meet on Thursday evenings beginning September 21. This group is open to all teens and adults who love to sing; no auditions are necessary. Rehearsals for Kids Sing! will begin in October. This singing group is free and open to all children ages 5-12.

The Music Center has new classes for adults. Bucket List Piano is a group piano lesson to give you a fast track start to playing piano. In six weeks, the class should be able to learn 4-5 songs and be ready to move on to more! This class will be offered on Wednesdays at 1 p.m. Garage Band Revisited is geared for grown-ups who have been, or want to be, in a garage band. Connect with new band mates and jam together. All sound equipment is provided—just bring your instrument or drum sticks. Garage Band will meet every Thursday evening at 7 p.m.

Lots of excitement is going on at St. Francis Music Center this year! For more information, call the Center at (320)632-0637. REGISTER NOW!

St. Francis Music Center is a community school for the arts located on the campus of the Franciscan Sisters of Little Falls. The music school is open to all and offers a wide variety of lessons and programs. Financial aid is available.


---
Pine Country Bank donated $500 to the Music Center


The Franciscan Sisters are grateful to Pine Country Bank for the generous donation of $500 to support the orchestral program at St. Francis Music Center. Thank you! Pictured: Tina Scherping, Sister Adela Gross, Sister Bernice Rieland and Diane Korver.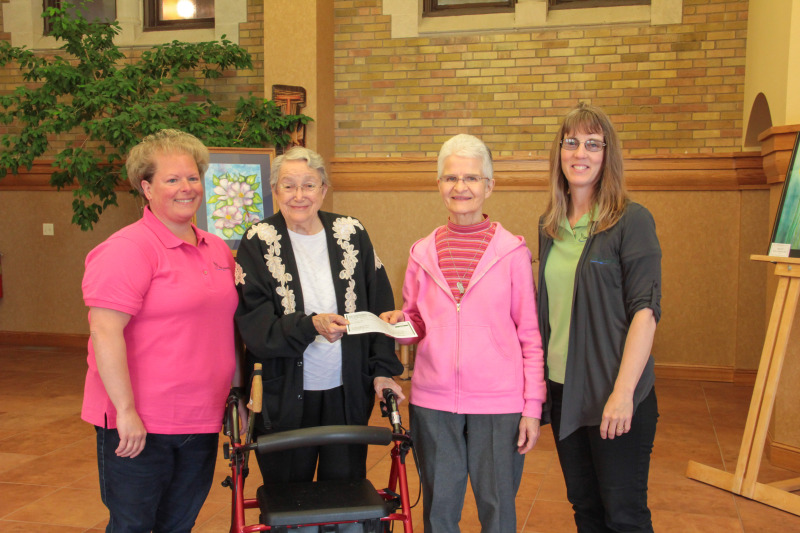 ---
2017-2018 Calendar
| | |
| --- | --- |
| Fall Quarter.................. | September 5, 2017 - November 25, 2017 |
| Winter Quarter........... | November 27, 2017 - March 2, 2018 |
| Christmas Break........ | December 20, 2017 - January 2, 2018 |
| Spring Quarter............ | March 5, 2018 - May 25, 2018 |
| Summer Session......... | June 4, 2018 - August 17, 2018 |
| Summer Break............ | July 2, 2018 - July 6, 2018 |
Special Events
| | |
| --- | --- |
| Halloween Recital.................................... | October 29, 2017. 1 p.m. |
| Holiday Recitals....................................... | December 1, 2, 3 2017 |
| Chorale Christmas Concert................ | December 10, 2017. 2 p.m. |
| Orchestra Christmas Concert............ | December 15, 2017. 7 p.m. |
| Honors Concert........................................ | January 28, 2018. 1 p.m. |
| Keyboard Festival.................................... | April 6 and 7, 2018 |
| Spring Orchestra Concert.................... | April 27, 2018. 7 p.m. |
| Spring Recitals.......................................... | May 11, 12, 13, 2018 |
| URock........................................................... | July 20-29, 2018 |
| Green Fair Folk Festival........................ | August 1, 2018 |